Owning a home is a never-ending project, and doing home improvements during the first year of adjusting to life with a tiny new member of the family has taken Herculean effort. But we're making it through. Each weekend we pick another task, even if it's completing a small task, like organizing the laundry room or making progress on a larger one, like getting closet doors installed.
Our house is quite unusual, as I've talked about before, but one of the "smaller" things we noticed when we first looked at the house was the lack of closet doors in the bedrooms. Once we moved in, the reality of just how weird that was set in. It looks like the previous owners put up curtains, at least in the master bedroom, to cover the closets, since there were tension rods still up when we moved in. It's unclear if anything was done in the other three bedrooms. Still, it was something we wanted to solve, so we ordered doors late last year, had them painted a few months ago, and are finally getting around to installing them. The first weekend we embarked on this project required us to go to the hardware store a couple times. About half the rails for the doors are installed now, so we're getting there!
Another project we've been working on was getting the storage pod finally delivered and contents integrated into our home. The big part of this job was actually getting the storage pod delivered and emptied into a staging area in the garage so we could sort through it. First, we had to do some car shuffling. We learned that the space next to the house is indeed large enough for a car to park in it! And then were able to park the truck on the street for a couple days while the pod was parked on the driveway, with just enough space to squeeze my car in and out of the garage.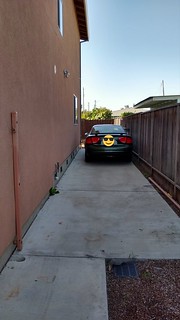 Then we had movers come over for a couple hours to empty it out. They brought a bunch of furniture into the house, so we now have a living room downstairs that actually looks lived in, and some pieces of furniture for the television in the upstairs family room to sit on, though we still lack a couch in that room, so watching TV in there isn't feasible yet. We still have some work to do, the huge china cabinet that's now in the living room needs some repairs before we actually put dishes in it, and it should be anchored to the wall in case of earthquakes or enthusiastic, climbing children. We also have some work to do to move stuff from storage totes to where they actually belong in the house, but first we need to establish those spaces, and I think much of that will happen slowly over the course of several months rather than being specific projects. I did bring my Sparc Ultra10 into my office though, even if I haven't managed to find my Sun keyboard and mouse yet.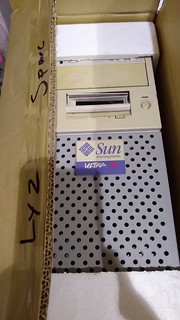 Another project has been preparing the roof for solar! I think I've mentioned before that the house was built in the 1956, so all the vents were haphazardly placed all over the roof. In order to install solar panels most effectively, several of them had to be moved. So we've worked with a few contractors to get the work done, and finally a couple weeks ago the work was finished with a roofer who came by to inspect and seal up any spots that needed it after the work of the plumbers and others. The actual solar work is a few months off due to there being a wait list, but I'm happy we're finally able to move forward with it. We've been lucky that none of the rolling power outages in our area have hit us, but they have touched other parts of our town and we remain a little on edge about the possibility. Having solar panels to at least keep us going during the daytime will bring considerable peace of mind, and we've also been considering batteries.
And now the project that has suddenly usurped all others: baby-proofing. Many of the cabinets in the kitchen already have anti-child clips, so we just need to finish the rest. A gate needs to be installed at the top of the stairs, which we thought would be easy but the first one we bought conflicts with the railing on one side, so we need to go back to the drawing board there. Highest on our list is protection of gnarly wire farms around power outlets in rooms he frequents and securing some of the furniture to walls. His bedroom is where we've started the work, and the giant bookcases in my office will be next up. I think we have a solid plan and all the tools we need now, so we just need to carve out a weekend to finish it.
There's still so much to do, and I'm trying to strike a balance between making progress on things and giving us all the rest and grace we need. We need to keep pushing forward on projects, but spending quality new family time together doing non-projects is important too.