What's it like to be pregnant during a pandemic, and give birth during what's being called the biggest wave of said pandemic? Not great, that's for sure.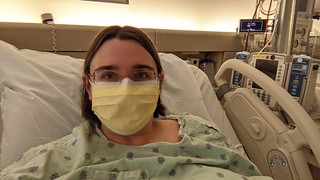 I want to begin with a shout-out to other people who have been pregnant during this pandemic. Pregnancy is often not easy, even during the best of times, and these were not the best of times. I had every benefit laid out for me, from top-notch prenatal care to a supportive work environment and help at home. It was still a struggle from conception through delivery, and now beyond as our options for help around the house and supplemental childcare are limited.
When the reality of the pandemic became clear in early March, we were already trying for a second child. A brief discussion was had about whether we should pause our efforts due to the growing pandemic concerns, but little did we know at the time, it was already too late! Our second child was coming, and he'd be born during a pandemic.
Doctors
The first thing that was clear was the limitations placed on doctor visits. My husband came with me to almost every prenatal appointment with our first child. He held my hand as we got our first glimpse at that first ultrasound, and at every milestone after that. This time he wasn't able to join me at any of them. I was able to video him in to chat with the doctors, but ultrasounds don't come through well, and it was heartbreaking to miss out on his physical presence there with me.
Beyond this, the absolutely necessary COVID-19 screenings at the doctor offices were tedious, but not overly burdensome. Most days, you are scanned for a fever and asked to answer a series of questions, which I was happy to do. Unfortunately, I ended up with a severe sinus infection early in my pregnancy and suddenly I had a whole pile of symptoms consistent with COVID-19. I was put on antibiotics, but I also had to go in for a COVID-19 test before they would allow me in to my prenatal appointment. This meant getting screened on a Friday, receiving a negative test on Saturday morning, and the entire household going under strict quarantine all weekend so I could go to my appointment on Monday without having risked any additional exposure. Once I arrived at the office on Monday, I had to wait outside until a nurse from the OB-GYN office came out to confirm my negative screen and escorted me into the office. Side note: the COVID-19 test is much worse when you have a severe sinus infection.
There were a couple times when I had to ask my husband to drive me to visits. One was when I had my amniocentesis at a practice 45 minutes from home. I reacted poorly to the one I had with my first child, so I knew I'd be in rough shape this time too, and wouldn't feel comfortable driving myself home. Another time, a troublesome headache in my third trimester caused me to call upon him again to take me in. Both times, he was required to wait in the car while I went in to my appointments.
The only thing different with doctors in a good way was the rise of video-based medical appointments. When a problem arose with my liver, I was able to sync up with my liver doctor over video. Every appointment with my nutritionist to handle the gestational diabetes was over video except when I had to go in learn how to use insulin. Even physical therapy, which consisted of a series of exercises, was done over video after the initial consultation. The video appointments were not only convenient, but without transit time, allowed me to craft a much smaller buffer around each of them so there were fewer adjustments to my work schedule on those days, which typically translated into not having to wake up so early. I hope video appointments are something that survive the pandemic, maybe not to this extreme degree, but when no physical examination is required I was grateful for them.
Travel
While on the positives, travel is high on that list. I love traveling, and I do a lot of it for work. I traveled extensively during my first pregnancy, and the longest stretch I've gone in the past decade without traveling is the 14 weeks I took around the birth of that first child in 2019. This time around, I was grounded for my entire pregnancy. While I desperately missed traveling, I was almost immediately grateful that during the peak of my morning sickness, I didn't have a block of two weeks of travel which would have included booth duty, delivering a couple talks, and a running a day long workshop. One of the events was cancelled outright, and the others made a quick, if not graceful, transition to a more limited virtual event, where my commitments were greatly reduced. The year continued in this vein, which events being postponed or canceled, and ultimately many making the shift to virtual. Along with all my peers, I could suddenly do my whole job from home and, though it was no secret, people didn't even know I was pregnant! And as complications piled up with this pregnancy, from severe pelvic pressure to gestational diabetes, it became clear that juggling these while traveling would have been a challenge. Instead, not only was I able to excel at work this year, I was able to work and keep giving talks until two weeks before delivery.
Sadly, travel limitations cut both ways. Our townhouse in Philadelphia went unused by us all year. Our local relatives and friends took care of it while we were away, our wonderful neighbors let us know if anything had go awry (like some birds making a nest under our deck!). Logistically, this was fine, but it was incredibly sad. The main reason we have a place on the east coast is to more easily spend time with family out there as we grow our family. We want our children to have a close relationship with our relatives in spite of us being California-based, and we were looking forward to visits that would allow our parents to frequently see our kids as they grew up. Instead, the last time they saw our first child was when he was just one year old, missing out on countless milestones as he entered the toddler phase this year.
Day to day
Broadly speaking, being pregnant with a toddler at home during a pandemic is tough. Since the pandemic began, our area remained fairly high risk, with lulls in numbers but never a full eradication where we felt safe. It's unclear what COVID-19 could do to a pregnant person, but as with most illnesses during pregnancy, it does present greater risk than if one was not pregnant, and there is some preliminary evidence that shows impact on the placenta, which could impact the fetus.
Now, we would have always followed the stricter guidelines (no salon/barber or dining out for us!) but being vulnerable myself added an extra layer of stress to the pregnancy. There's only so much we can do to protect ourselves, we depended on our community members also doing the right thing. Thankfully, people here are largely are careful and considerate with masks and other precautions, with the only behavior causing us to pause is on-site dining, which often looks crowded and poorly managed, even when it's outside, and we just avoid that pitfall by not partaking.
Preparing for baby!
As the due date approached, other pandemic-related restrictions became apparent. For our first, we had my aunt come into town to help us out for the first seven weeks. I can't imagine having done it without her! From baby care to making sure I was eating healthy food to taking care of chores, I'm certain her stay with us kept some of the worst sleep deprivation at bay and made our home livable as we made the bumpy transition into parenthood.
This time we had planned for her to come out for a few weeks to help with caring for our toddler during the hospital stay, but it just became too dangerous for all of us. COVID-19 cases hit the uncontrolled level nearly nation-wide just before Thanksgiving, and since we were going in to be induced on December 1st, she'd either need to come out very early (weeks before Thanksgiving) or risk traveling at the same time as all the folks going home from Thanksgiving. Instead, for the hospital stay itself we crafted a network of friends and neighbors to support the primary care for our toddler that we had arranged. There was still risk in expanding our pod, but it was very limited, and much less than having someone who had to fly join us. Thankfully everything worked out.
Hospital
I delivered both my children at the same hospital, but the pandemic experience was vastly different. The first time around, my husband was allowed to come and go from the hospital as needed, which meant he could get meals, run home to check on the cat, shower, and change his clothes, and stop by the grocery store to pick up snacks (for us and the nurses!). This time we were both isolated within the hospital walls from check-in through discharge. That made planning a bit more complicated, since we needed to pack and plan for both of us being completely away from home for several days.
Upon arrival, I was whisked off to admitting while my husband waited outside. Once I was cleared to go up to the maternity ward, he was able to come inside and join me. We went through the standard screening procedures (temperature check, verbal questions about symptoms, swap out masks) and then put into the room where I'd deliver. I was immediately given a COVID-19 test, and until the results came back negative 90 minutes later all the staff interacting with us had both an N95 mask and a surgical mask on. We were allowed to remove our masks when we were alone in the room, but as soon as someone knocked on that door, we immediately put them back on. That means I was induced and went through several hours of early and active labor with my mask on, had the epidural administered with a mask on, and ultimately gave birth to a child with a mask on.
About two hours after birth the epidural wore off and I was cleared to walk on my own. At this stage, we were moved to the recovery room where we'd spend the next couple days. As with the delivery room, it was "masks on!" every time someone entered the room. While tedious, I was grateful for the abundance of caution. Contrary to last time, when they encouraged us to take walks around the ward, there was no such encouragement this time, and I never left the room once I entered it. All tests on our little newborn were performed inside the room, rather than taking him elsewhere. For meals, my husband ordered his from the hospital cafeteria just like me, and everything was delivered to our room. And sadly, while fed, my husband didn't get a bed. Instead, he spent our three nights in the hospital sleeping in reclining chairs!
They did what they could to still make it feel special though. The hospital offers a lovely celebratory dinner, which we looked forward to last time, and are very pleased that they still did. The hospital food for this meal was a bit better than their standard fare, and it's delivered on a table with a couple small bottles of alcohol-free sparking cider.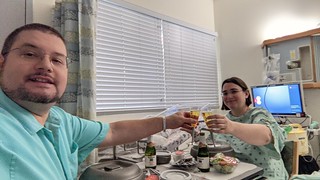 Discharge looked a bit different as well. First, they were aiming to let people out 24 hours sooner, but were strictly adhering to the guidance of the doctors on this one. We ended up staying the standard amount of time due to a couple risk factors. I was somewhat split, going home early was a compelling option and I think the pediatrician would have let us if we insisted. But once discharged, our only way back in to the hospital if there was an emergency was through the ER, and that's the last place I wanted myself or my newborn during an uncontrolled phase of a pandemic. We followed the advice of the pediatrician.
Once actually cleared for discharge, we had to do a bit of vehicle juggling. We needed to leave the family SUV at home with our two year old and his caretakers while we were in the hospital because it's the safest car and it has the car seats, so we took my car to the hospital. MJ had to leave the hospital to swap cars so he could pick us up in the SUV. There was a bit of negotiation with the nursing staff to make this work since it meant he was leaving the hospital, and they were required to inspect the car seat to make sure our newborn was properly secured in it before leaving. It was clear at this stage that a lot of families were put in quite a bind with little ones who were at home, from finding safe care to being in situations like ours, where flying in a relative from far away suddenly became unrealistic, so they had to be somewhat flexible.
Life ahead
I'm publishing this just under week after my little one was born. Here in the San Francisco Bay Area, a shelter-in-place order that closely mirrors that of the initial one in March went into effect yesterday as the hospital ICUs are rapidly approaching capacity. It's a scary time to have a newborn, for sure. As limits are placed on in-person shopping, I'm apprehensive about the next time we have to go to the grocery store (soon!) and otherwise we've been leaning more heavily on delivery services than ever before.
Thankfully, with a newborn and my own recovery on-going, the pediatricians have still been allowing both parents into the appointments, which is not true of doctor appointments for our toddler. All the office visit precautions apply, so we've generally felt safe within the walls of the doctor office.
Tomorrow we'll be going into San Francisco for our little one to have his bris and baby naming ceremony. For our first son, this was a big event! We went to the synagogue with family and friends, brought in a catered lunch, took loads of photos, and had a lovely time introducing our new little one around. This time, we are unable to have any family fly in, and the synagogue is closed for all events. Instead, only members of our household are making the trip to the city, meeting our rabbi and mohel at a doctor's office to perform the ceremony. We'll do a video stream for family and friends. I'm disappointed that we won't have the same memories and experiences for our second son that we did for our first, but I hope he some day has a sense of humor about it, being born during a pandemic will make quite the story some day!
These next few weeks will be challenging. Between my aunt and other help around the house last time, we were able to keep things running relatively smoothly. I expect a lot more chaos this time around! Things won't be as clean, I'm certain the place will look more cluttered, and we all will be a lot more tired just trying to keep our heads above water without the opportunity to hire any outside help. It will be fine, I'll just need to let my standards lapse a lot more than I've ever been willing to.
At the end of this phase of life, we'll be fine. But my heart goes out to families who are not as lucky as we are. It's a hard time for all of us regardless of where are are in life, and any additional complication or major change adds in countless hassles and an undue amount of stress. Hang in there, and reach out to your loved ones if you need help, I sure have.