Last week I set out with Aaron, dressed a bit like a penguin, and did a 5K walk around town as part of a fundraiser for the San Francisco Zoo.
While it was just a walk, and I do walks almost every day, it was fun to dress up and share something on social media with a community of fellow animal lovers. I also realized that these virtual races may be something I could really get in to. We'll see what else I can find virtual 5K-wise in the coming months.
In my last post I mentioned resurrecting my Wallace and Gromit fan site, and as promised I did write up about my at-home film festival: DIY Aardman Book Private Film Festival. It was an enjoyable way to spend my time, and it was a pleasure to learn more about the history of the studio, and work beyond the characters I am most familiar with.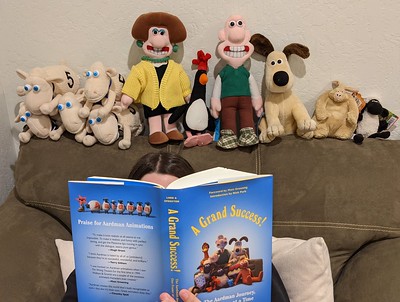 I've also been studying to get my amateur radio license. It's been on my bucket list for years. My father was a ham fan, so I knew about the hobby from a young age and have always had a number of friends who were into it. It's also a technical endeavor that has nothing to do with my day job, making for an engaging and interesting way to spend my extremely limited down time while on maternity leave. I hope to do the test in the next few months, probably remotely with one of the ham clubs my friends are part of.
We also recently celebrated Purim, by which I mean we ate hamentashen prepared by our synagogue and shipped to us, introduced Adam to noise-makers, and watched a joint Purim and Shabbat service via Zoom on the big TV in the family room. It's not a holiday I've observed before, partially because timing is tricky (I'm usually traveling during it) and also because it all seemed very kid-oriented, and we didn't have kids until recently! Doing all of these things remotely is still taking some adjusting to, but I love how creative our synagogue has gotten with the holidays, it's now been a whole year of them. Passover is scheduled now, and will be our second one conducted over Zoom.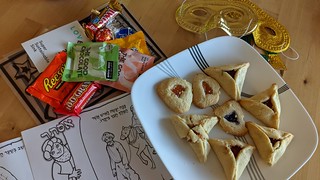 All of the things in the post are impacted by a very different world than I was sitting in a year ago. On March 8th, 2020, we flew home from Pasadena after our last in-person conference, and that was our last flight for an entire year. It had been over a decade since I spent that much time without flying, with most years getting near or hitting 100K miles lately. This past year without travel has been hard on my wanderlusting heart, but it also allowed me to cope with a difficult pregnancy at home, and spend a lot more time with my little family. There were no virtual 5Ks I could do at my own pace with my infant without joining a crowd, I probably would have continued to not prioritize getting my ham radio license if not for infrastructure and safety concerns stirred up by the pandemic. We've had to get more creative with projects at home, leading to my private film festival. The pandemic has been deeply tragic, so finding these silver linings has been important to keeping me hopeful and happy as we look to the future we're building for our sons. Here's hoping the vaccine rollout continues quickly and we can be in a much safer place in a few months.