Adam and I have been doing a lot of baking lately. Sometimes it's making Challah or banana bread from scratch on a quiet afternoon, or blueberry muffins from a mix, or just taking pre-made cookie dough out of the refrigerator and dropping it on a baking pan. Along with art, this has been a really fun "making things" activity for us to look forward to doing together, and then at the end we both end up feeling ownership for the result, making the food much more fun to eat. Plus, he is at an age where he wants to help with everything, so it's nice to have an outlet that's safe and ends up being an activity we can look forward to together.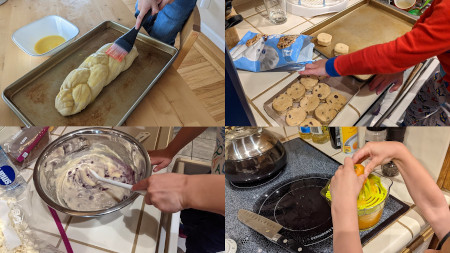 Challah has been part of the larger Shabbat rituals we've brought back into our lives these past couple of months. We all love candles, and so Adam now looks forward to candles, bread and wine/juice together. We don't do the actually important part of Shabbat, since we're still not attending in-person services and we're still treading water "work" wise over here. We do what we can, when we can, and not doing chores on a Saturday is not a challenge we're prepared for right now. Still, we do spend Saturday together as a family, with quality time going to the farmers market, out to lunch together, and usually by spending some time outside.
Recently, we spent it at a rodeo parade! The parade in town was leading up to the annual rodeo the following weekend, which we weren't able to attend (COVID caution, plus the kids still being quite little). The parade was a lot of fun though, and since it was just a block from home, we could easily put the boys in the stroller and walk over to watch it for about 40 minutes. From there, we walked down to our favorite brunch spot to eat a meal together. After their naps, we got to go play in the back yard with water for a while, before retiring indoors for an evening of baseball on TV.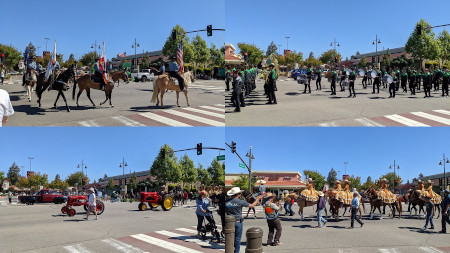 I've been doing a lot of events at work lately. I hadn't planned it this way, but it makes sense because the IBM z16 came out last month and I have done a lot of work to distill the technical features, so people keep asking me about it. It's been nice to do a bit more speaking, I've really tapered off during the pandemic, and things really got slow this past winter.
It's nice to feel satisfied at work, but I also have been making an effort to carve out some time for myself. MJ and I finally confirmed our much-delayed anniversary dinner, and will be finally celebrating it next Thursday. I also decided that a night away alone at a local resort and spa would be really good for me, so I booked a night in mid-June and also took three days off from work that week, two so I could enjoy the resort, and another to focus on some stuff at home before the weekend. In addition to being good things to do, these both give me a break to look forward to, and that's really important right now.