On September 21st I headed to Philadelphia for my first in-person event since March 2020, the Open Mainframe Summit! The Linux Foundation kicked off this event in 2020, and it swiftly went virtual for two years. This means it was the first time this event had been in person too. Masks and either vaccination or a negative COVID-19 test were required to attend, which made me feel much safer about this being the first event I went back to. Kudos to the event team for holding firm on this requirement at this phase of the pandemic.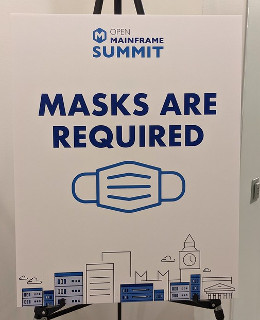 The day before the event I also had the pleasure of meeting with our VP, Meredith Stowell, who was in town for an Open Mainframe Project board meeting prior to the event. One of the things that I've found so valuable about my role and the teams that I'm on is not only how accessible our leadership chain is, but that they go out of their way to check in with individual contributors. I've worked on a lot of great teams, but it's really transformational to work for an organization where you feel directly supported from the top down.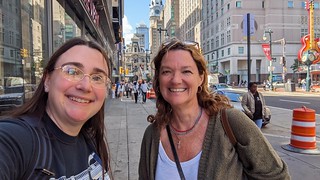 My participation in this event took several forms. Early on, I was part of the program committee that helped select the talks. I was also managing IBM's sponsor presence for the third year in a row. While I always had a nice cohort of folks helping me put together materials and things for the virtual booth, it took a lot more logistical work to get everything there in-person. Finally, I gave a talk on the Linux Distributions Working Group with my group co-creator Sarah Julia Kriesch and also participated in a mentorship keynote panel.
As we led up to the event, I helped get a booth schedule put together for IBMers who I knew would be on-site to help, and made sure I had my Raspberry Pi 400 all loaded up with our sustainability demo to show off at the booth.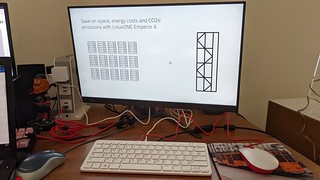 The morning of the event I loaded everything up into my backpack, a small suitcase, and the monitor tucked away in its box, and took the train down to the city. The background banner for the booth was all set up when I arrived and came out beautifully, and with a few extra pairs of hands helping out, we had the booth set up in no time.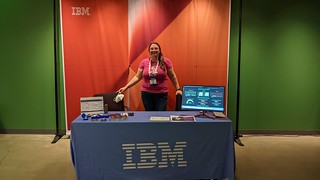 And then the event kicked off! I won't dive deep into technology here, since this is a more personal reflection, except to say that the technical sessions I was able to attend were top-notch and I think we did a really nice job selecting a diverse set of speakers, across various metrics. The keynotes felt approachable by everyone in the audience, which is hard to pull off for a technical conference, but the Linux Foundation does a really good job making sure various perspectives are captured in the community. Perhaps the most personally valuable one to me came from Cynthia Coupé who spoke on "Neurodivergency and the Mainframe: A Parallel Universe". I have a loved one who recently received a neurodivergent diagnosis, and as I learn to support them I've learned a considerable amount about myself, and my own peculiarities. What I loved about her message though was that we need to be building inclusive spaces where we accept and celebrate our differences because of the different types of value we all can bring. I know I have a tendency to get hyper focused and excited about things, but it turns out that it has served me quite well in my career, as long as I had a team to support me and a community that's forgiving of quirkiness.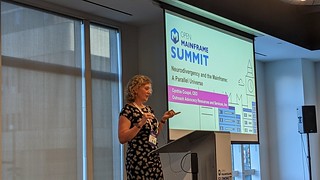 The biggest take-away for me at this event was meeting people. This has always been true of in-person conferences, if all we went for was learning, we could arguably do that by viewing a carefully curated playlist of talks from YouTube. It was particularly important this time though. I joined IBM less than a year before the pandemic, which means most of my time spent in the mainframe space has been online. There are more people I hadn't met in my immediate sphere than those I had, and it was a tremendous opportunity to connect on a personal level, and have some candid conversations that I otherwise have not had the opportunity for.
There were a lot of selfies.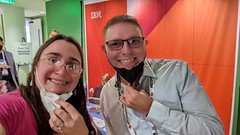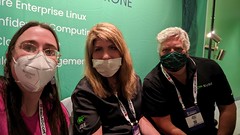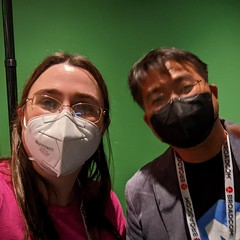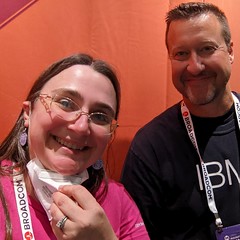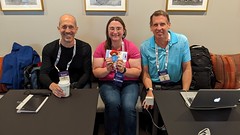 A lot!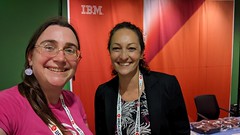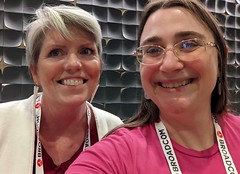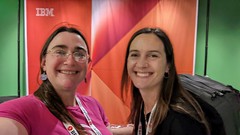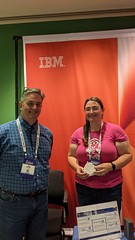 It was of course a pleasure meeting and doing a talk with Sarah. Her passion for openSUSE on IBM zSystems and LinuxONE inspires everyone around her, and she's being doing a lot of great advocacy to our broader Linux and open source communities. I think our talk together went quite well, and it was nice to sync up with people there at the summit to discuss what some of our future plans should be.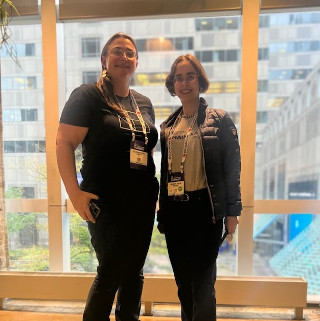 With Sarah!
I also had a lovely time on the keynote mentorship panel on day 2. I have worked with Michael Friesenegger of SUSE extensively over the years, so it was a pleasure to finally meet in person and doubly-so to be on a panel with him. It was also nice hearing from people after the panel, so thanks to everyone who paused to chat with me about it.
In all, great event, and it's invigorated me in a way that I forgot in-persons had the power to do. I have new ideas for the projects and working groups I'm part of, and excited about improvements we can make to create an even more exciting event next year.