On February 7th, we said goodbye to our beloved 19 year old cat, Caligula.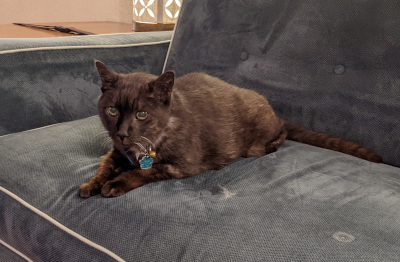 That morning he was more lethargic than usual, and after peeing on the floor at the top of the stairs, he flopped down onto the tile floor. Accidents were becoming a bit more frequent for him, but not this far from his litter box, and I don't think I'd ever see him rest on the cold tile floor before. Something was wrong. We called his vet and got him at 9:40AM appointment, I went with MJ to take him in. It was quickly apparent that he was quite sick, as the vet who had been treating him for his various age-related ailments wanted to put him on oxygen and suspected there was fluid in his lungs.
A few hours later we heard that they had indeed drained fluid from his lungs, and started on a regional search for a veterinary cardiologist who could see him quickly. It turns out there aren't many around here right now, and our best bet in the short term would be a facility with a radiologist with a keen eye for heart problems. Our vet made some recommendations, but her predictions were still quite dire, with all his health issues, even with treatment for heart failure best case was that he only had a few more months. They kept him under observation for the rest of the day, and then gave us even more troubling news, when they took him off the oxygen treatment, he still wasn't breathing well on his own, and they were transferring him to an emergency veterinary hospital.
On the drive over I sat in the back seat with him, and even I could tell that his breathing was labored. By the time we got across town, the emergency vet said she was surprised he had made it, and they immediately put him on oxygen before delivering the final blow to us: based on her experience, there was about a 50% chance he would pass away on his own overnight while they waited for the specialist to look at his heart. If he made it through the night, he might have a month left to live. It was time to make the decision of whether to euthanize. We agonized over it, but ultimately decided it was time, and we went home to pick up the boys.
And so that evening we said goodbye to our beloved Caligula. We brought his cat bed and one of his favorite toys. He was on oxygen as we crowded into the small exam room to give him final kisses and pets, and explained it all very clearly and directly to the boys. He passed away quietly with all of us there with him.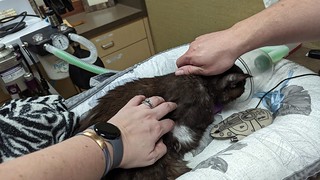 I was absolutely heartbroken as we left the vet that night and came home to our cat-free home. It's taken me over a week to even write this.
We had him cremated. I picked up the ashes on Wednesday, and with that my heart broke all over again.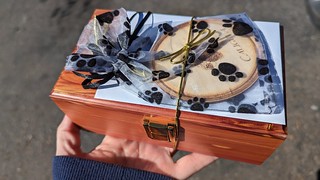 This grief will take some time to work through. He'd been my daily companion for most of my adult life, we'd been through so much together. I love you, Caligula. I miss you dearly.