I mentioned that the Alameda Point Antiques Faire was where I got my wide-carriage Royal FP Elite. A couple weeks ago we went back, on the first Sunday of the month, to try our luck again. I saw a lot of Royals there, but after my experience with the Magic Margins on my Royal FPE, I wasn't keen to get another, plus, I already had one!
Ultimately, we picked some great old vinyl albums, and on my way out I picked up a 1975 Olympia Traveller de Luxe. I had passed it the first time around the fair with a price tag of $150, and offered the dealer $125 upon my return. He accepted, and I brought my new portable treasure home with us.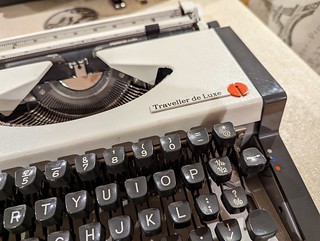 It needed basic cleaning, if I had to guess it had been in a garage with a shop, since it had wood and metal shavings inside. I wiped down all the typebars and got to what I could of the base without taking it apart. It's very pleasant to type on now, though I still need to fiddle with it a little to get the "a" key to stop sticking, it probably just needs a dab of typewriter oil, which I bought recently.
Then I needed a ribbon! Thankfully, TheModernTypewriter once again had my back, and quickly answered my question about which spool and ribbon listing I could use for this typewriter. About $10 and a few days later I had a new ribbon, this one in black and orange.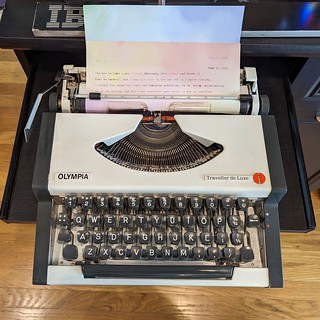 The black and orange looks really nice with it, and I'm grateful that I once again dodged the need to re-spool a ribbon myself. As much love and care as I put into the Skywriter, and debugging I did on the Royal, I wasn't quite ready for a whole new project just yet, so it was nice to just get comfortable with a whole new brand and style. It's also much newer than any of my others. Until I brought home this Olympia, the newest one in my fleet was from 1959 (that Royal), so 1975 is quite the leap, and it definitely has a bit more of a modern feel, but not too modern!
With this acquisition, my typewriter fleet expanded to five, with another on the way via friend. Six typewriters is probably too many, so I decided to send this one to our townhouse in Philadelphia. It's nice and compact, so I'm hopeful that MJ won't have any trouble carrying with him when he goes back to Philly on his own in a couple weeks. Though I do admit being a little jealous that he's the one who will get to carry on a typewriter, and not me.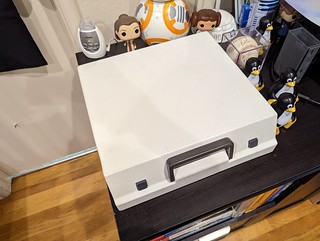 It will join typewriter number three, wide-carriage Remington KMC that I picked up at WPM Typewriter during our last visit. That will give me a standard and a portable there, which will make me feel right at home.