Yesterday we held the Philadelphia Karmic Koala 9.10 Release/Halloween Party over at Manayunk Diner in Manayunk. We used this place for the Jaunty release party and once again it turned out to be a great venue, thanks again to Jim Fisher for securing it for us, even if he couldn't make it out to the event this time around.
Huge thanks to everyone who came out, I had a blash, a few of us even dressed up!
And a total of 13 attendees, including one fellow who joined us from the Ubuntu Maryland team since he was in town, and a couple who made the trek over from New Jersey.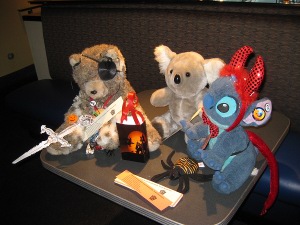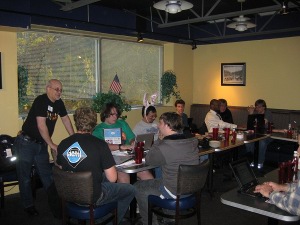 More photos: http://gallery.ubuntupennsylvania.org/main.php?g2_itemId=857
We enjoyed lots of chatting about Ubuntu and Karmic, eating french toast and waffles, drinking milkshakes and beer, and indulging in decadent diner desserts.
When I got home last night I ended up taking the plunge on my primary desktop to Xubuntu 9.10 – so far? No issues, a couple "papercut" bugs from Jaunty have been fixed, and in general I'm very happy. Great job Xubuntu crew!