Happy Ubuntu 12.04 LTS (Precise Pangolin) Beta 2 everyone!
I've been an Xfce user since 2004, this post from last year documents my UI adventures. It's been my Desktop Environment of choice for my whole professional career as a systems administrator and I'm very set in my ways configuration-wise at work. These days I help out with the Xubuntu team on marketing, website, release notes and testing. I really love Xfce and I'll continue to use it and contribute to Xubuntu (we had our beta2 today too, and formal release of our new branding!).
That said, I wanted to take some time to give a respectful nod to Unity.
I recently tried Ubuntu 11.10 with Unity on a new laptop. I have to admit that I found it a bit cumbersome (point: I also called Gnome2 cumbersome). There were little things about it that felt unfinished, like gaps where just using keyboard navigation didn't quite cut it. I also quickly realized that pretty much all of my favorite tips Jorge Castro showed off in his The Power User's Guide to Unity talk at Ubucon at the Southern California Linux Expo back in January where specific to the newer version of Unity in 12.04. I grabbed the daily build on March 13th and loaded it up alongside my Xubuntu 11.10 and 12.04 daily installs.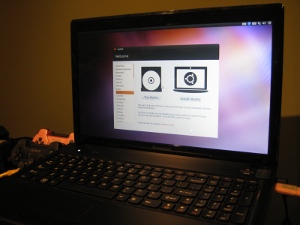 Installing Ubuntu 12.04 on my Lenovo G575
Unity in Ubuntu 12.04 is really quite impressive.
As a long-time fan of minimalist desktops I like it when the UI stays out of my way. I am a total sucker for keybindings, I use keybindings for everything. The new Unity has patched up the gaps in support for keyboard navigation to make the whole experience very smooth. Holding down the Super key (usually has a Windows logo on it) will pop up a cheat sheet for keybindings that I immediately fell in love with. The "display all windows" option (shift alt up arrow) for seeing all open windows on a screen is super useful when you have multiple windows of the same type open doing different things, like terminals. After sitting on my couch with my laptop for an hour I was quite comfortable with the new interface and had started working on some project stuff.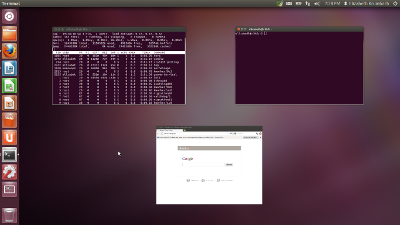 Showing all windows with shift alt up arrow
In all, Unity in 12.04 is significantly more polished than previous versions and I think finally presents a solid implementation of the vision that the designers had for it. Bravo! If anyone was put off by Unity in the past I highly recommend giving it another shot with this new release.
On Tuesday, April 17th, Grant Bowman and I will be doing a presentation on 12.04 at the Bay Area Linux Users Group (BALUG) where I'll be showing off some of the nifty tricks I've learned.