Back in June I gave a presentation on the 16.04 release down at FeltonLUG, which I wrote about here.
Making my way closer to home, I continued my tour of Ubuntu 16.04 talks in the San Francisco Bay Area. A couple weeks ago I gave the talk at SVLUG (Silicon Valley Linux Users Group) and on Tuesday I spoke at BALUG (Bay Area Linux Users Group).
I hadn't been down to an SVLUG meeting in a couple years, so I appreciated the invitation. They have a great space set up for presentations, and the crowd was very friendly. I particularly enjoyed that folks came with a lot of questions, which meant we had an engaging evening and it stretched what is alone a pretty short talk into one that filled the whole presentation time. Slides: svlug_ubuntu_1604.pdf (6.0M), svlug_ubuntu_1604.odp (5.4M)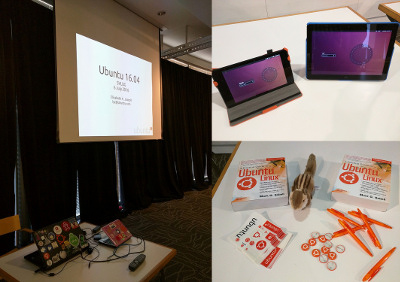 Presentation, tablets and giveaways at SVLUG
At BALUG this week things were considerably more casual. The venue is a projector-less Chinese restaurant these days and the meetings tend to be on the small side. After family style dinner, attendees gathered around my big laptop running Ubuntu as I walked through my slide deck. It worked better than expected, and the format definitely lent itself to people asking questions and having discussions throughout too. Very similar slides to the ones I had at SVLUG: balug_ubuntu_1604.pdf (6.0M), balug_ubuntu_1604.odp (5.4M)
Setup and giveaways at BALUG
Next week my Ubuntu 16.04 talk adventures culminate in the event I'm most excited about, the San Francisco Ubuntu 16.04 release party at OpenDNS office located at 135 Bluxome St in San Francisco!
The event is on Thursday, July 28th from 6:30 – 8:30PM.
It's right near the Caltrain station, so where ever you are in the bay it should be easy to get to.
Laptops running Ubuntu and Xubuntu 16.04.
Tablets running the latest Ubuntu build, including the bq Aquaris M10 that shipped with Ubuntu and demonstrates convergence.
Giveaways, including the 9th edition of the Official Ubuntu book (new release!), pens, stickers and more.
I'll need to plan for food, so I need folks to RSVP. There are a few options for RSVP:
email me at lyz at ubuntu.com
Need more convincing? It'll be fun! And I'm a volunteer whose systems engineering job is unrelated to the Ubuntu project. In order to continue putting the work into hosting these events, I need the satisfaction of having people come.
Finally, event packs from Canonical are now being shipped out to LoCos! It's noteworthy that for this release instead of shipping DVDs, which have been in sharp popularity decline over the past couple of years, they are now shipping USB sticks. These are really nice, but the distribution is limited to just 25 USB sticks in the shipment for the team. This is an order of magnitude fewer than we got with DVDs, but they're also much more expensive.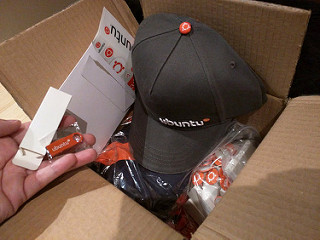 Event pack from Canonical
Not in the San Francisco Bay Area? If you feel inspired to give an Ubuntu 16.04 presentation, you're welcome to use my slides, and I'd love to see pictures from your event!