Back in February 2010 I moved to San Francisco and didn't bring my desktop with me. Instead, I bought the parts to assemble a new desktop. It had one of the first generation Intel i7s, 8GB of RAM, and I got the most beautiful flowery case decorated with Swarovski crystals. I wrote all the details in this blog post: Flowery new desktop.
The machine was reasonably future-proofed. Over the years I swapped out everything except the motherboard and CPU (including the CPU fan after some overheating incidents a couple years ago), but the motherboard maxed out at 16G of RAM and it was starting to get annoying. Plus, the machine would randomly shut off. The latter could have been many things, especially since I had that overheating problem, and I could have just started debugging by swapping out parts, starting with the power supply, which was the cheapest component, with the highest likelihood of being the culprit. The memory situation was insurmountable though. My desktop is the centerpiece of my permanent home office here, and I needed it to be more powerful than it was.
It was time to build a new machine!
I was oddly daunted by this task. I was a teenager when I had my dad drive me around town to buy computer parts and I assembled my first machine, so it's not like I lacked experience. It had been 10 years since I assembled a desktop, but in the intervening time built servers for work, so it's also not like I was completely out of practice. I think I've just been in a bit of a funk project-wise because I have so little time now that I have a baby at home. Plus, building a new desktop can be one of those projects that gets away from you if you let it, and I was really anxious about parts not working together, power issues, hooking things up wrong, you name it. And then not being able to make time to fix it in a timely manner.
Thankfully, I had an easier time than that, but my road was not without bumps.
At the end of January I ordered all my parts, and when they arrived I noticed my first mistake: My case can only fit a micro ATX motherboard. I knew this. The computer sits right next to me all day, every day, and it's very obvious that it's not even a mid-tower. Thankfully, I figured this out before I opened it and was able to immediately RMA it and pick out a new motherboard. While perusing my micro ATX options, I did momentarily pause to consider that I should just get a new case, but my case is beautiful and I didn't want to give it up. I finally settled on a board I'd be happy with and placed my order.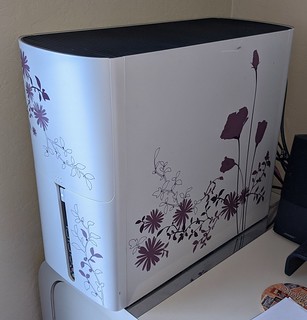 On Tuesday night this week I finally had all my parts and after putting Adam to bed I ignored all the chores I am supposed to do after he goes to bed and instead got working on my assembly project. It went fine! I did discover that my DVD-RW is IDE, so I'd need to replace that, and I did get momentarily stumped while moving the CPU heatsink and fan over (it has a bracket on the back of the motherboard that it screws into), but the only real problem I had was that a capacitor fell off my graphics card while I was moving it. I was pretty sure it would be fine without it, but then it got me wondering if the capacitor was already loose and that had been causing my shutoff problems. I booted my system and happily had it running for several hours the next morning. I posted a whole big thread on Twitter about how great it was that my new computer was built without any problems.
Then it shut off.
Oh no!
So, graphics card or power supply? I immediately ordered both, with the plan to replace the graphics card first, because I'd need to anyway (the plan is to resolder the capacitor back onto the old one, but I needed a graphics card now and I don't currently have soldering tools). I installed the new DVD-RW and the graphics card yesterday. Alas, after an over night, and then several hours of daytime up time, my machine shut down again. It was the power supply. So I replaced that this morning before work, and it seems to be holding steady now. It should, the only things that are old in there are the pair of SATA harddrives, the case fan, and the CPU heatsink and fan!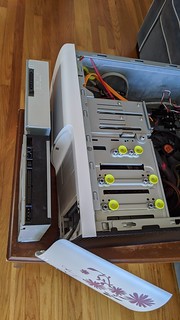 So, what did I end up buying? Here we go:
Intel Core i7-9700KF Coffee Lake 8-Core 3.6 GHz (4.9 GHz Turbo) LGA 1151 (300 Series) 95W BX80684I79700KF Desktop Processor
ASRock Z390M Pro4 LGA 1151 (300 Series) Intel Z390 SATA 6Gb/s Micro ATX Intel Motherboard
OLOy 32GB (2 x 16GB) 288-Pin DDR4 SDRAM DDR4 3200 (PC4 25600) Desktop Memory Model MD4U163216CGDA
VisionTek Radeon 5450 2GB DDR3 (DVI-I, HDMI, VGA) Graphics Card
The processor was the big expense here, at $369.99 it was almost half the budget of this project, which ultimately ended up costing me $773.01 once I got the unexpected graphics card, power supply, and DVD-RW. I'm really happy with the project cost though, I wouldn't have been able to buy an assembled machine for that much, plus it wouldn't have been nearly as fun!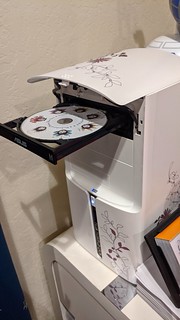 I really haven't had time for any of my own projects in over a year. My job is incredibly satisfying for scratching my need for technical geekiness, but it's not the same as having a project of my own. Next I should probably resurrect the degraded array in our media server, though I really would rather play with my new Raspberry Pi 4.